Wedding Shoelaces
It's hard to believe so many months have passed since my last post, and that's all thanks to my fabulous customers who have been keeping me busy making custom shoelaces. Several new styles have been introduced into my shops these past few months, and probably my favorite addition has been the Iridescent Shoelaces.  I've exclusively featured the Lost in Lace shop at Etsy for the laces below, but they are also available at the All About Shoelaces shop.
Pink & Green
(The Mauve and Sage on the left has softer shades while the pinstriped Fuchsia and Green on the right is a brighter way to go.)
Iridescent shoelaces stand out the most when they mix colors that are more distant on the color wheel like these pink and green laces.
Everything Purple
(Blue, Green and Purple)
 As usual I went a little heavy on the purple when selecting my iridescent shoelace ribbon.  Maybe I need someone to stop me from getting so much purple, but my customers seem to like all of these new purple shades too!
But Wait! There's More!
(Top Left: Dark Blue and Gold, Bottom Left: Green and Brown, Right: Blue and Green)
There are so many styles to choose from, that I can't list them all, but suffice it to say the Iridescent Shoelaces are going to be sticking around. If you want to see everything in one place, checkout the Iridescent Shoelaces section at the All About Shoelaces shop. They are too much fun to pass up!  – Ann Louise
Save
It seems I'm always getting requests for shoelaces made of actual lace. They look beautiful in wedding shoes, and they add a frilly look to granny boots, brogues, oxfords, sneakers…actually I think by definition it's safe to say that lace shoelaces add a frilly look to any pair of shoes.
Wedding Cotton Crochet Shoelaces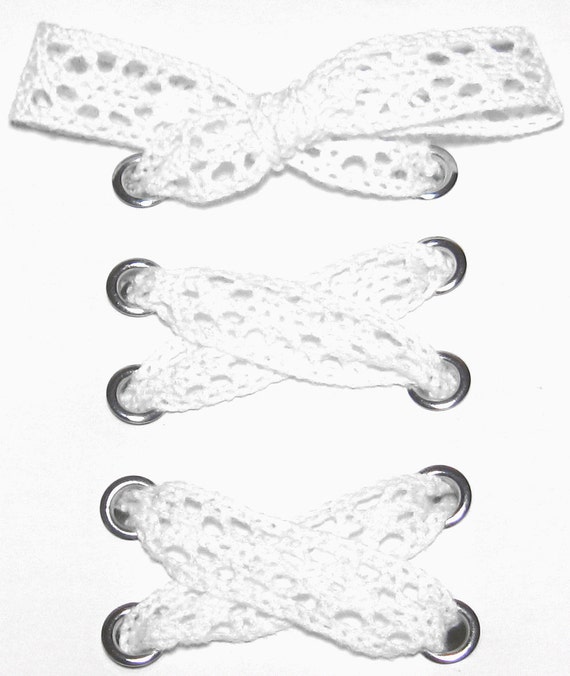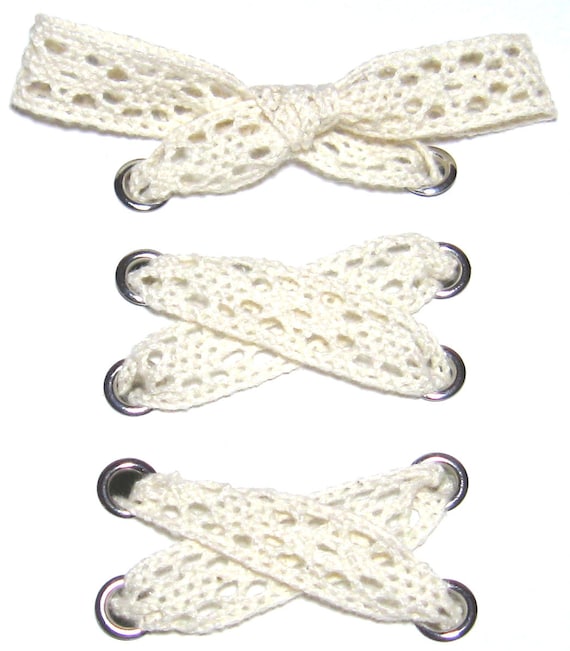 Several months ago I went on a search for lace trim that was suitable for shoelaces, and this cotton crochet style in white and ivory was the first I found. I'd actually tried crocheting shoelaces by hand, and while that worked nicely for my own shoes, it was way too time-consuming to try to do the same for my customers. As soon as I  started offering this style, many of my bridal customers opted for these over the popular organza styles. Certainly I make the majority of these shoelaces for wedding shoes. (Click on the pictures above to view these shoelaces at the Ribbon Shoelaces shop.)
Lacy Lace Shoelaces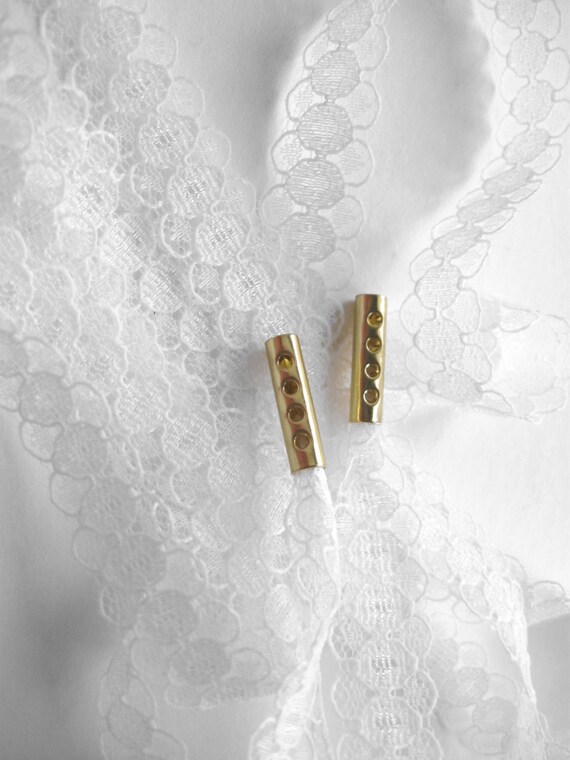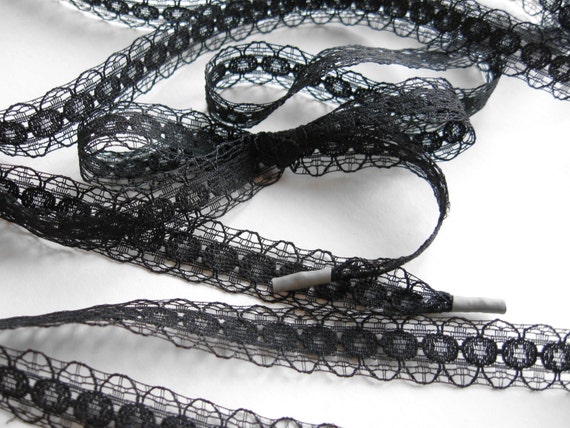 Until a couple of weeks ago I hadn't been successful in searching for more delicate looking lace that could handle the task of lacing up shoes. Finding quality wholesalers in an ongoing challenge, so I was thrilled when my sister-in-law shared one of her favorites that just happened to carry this beautiful nylon lace in white and black. While the black obviously isn't intended for bridal shoes, it has infinite possibilities with other shoes. I'm excited to hear what my customers have to say about these since I think they might just surpass the crocheted laces in popularity! (Click on the pictures above to view these shoelaces at the Lost In Lace shop.)
More Crochet Shoelaces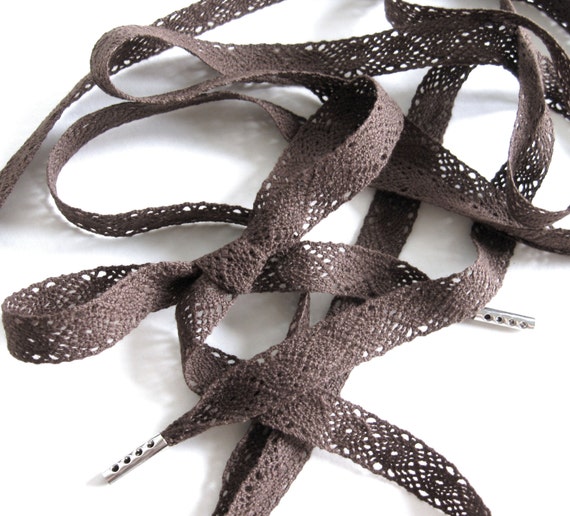 And that same new wholesaler also offered some crocheted lacing material in a variety of colors rather than white and ivory. Since these are brand new to my offering, I'm starting with a nice brown lace that's more versatile than the other colors, but I expect as these start to get noticed by my customers, I'll be back to get all of the other colors too. (Click on the picture above to view these shoelaces at the Lost In Lace shop.)
I don't think I ever would have pursued lace instead of ribbon without the requests from several customers. One advantage to being a small business owner is the ability to quickly react to customer feedback and meet their needs. These lace shoelaces are a great example of how customers can get what they want simply by asking, and I'm always so glad when they do. 🙂 Ann Louise