Velvet Shoelaces
Despite getting so many requests for velvet shoelaces, I'd been reluctant to make them since there are no suitable lacing materials for double-sided velvet. My customers told me it doesn't matter if the Velvet shoelaces are double-sided or not since we all know how to lace our shoes to put the plush side on top. Fair enough, so I made my first pair for myself and absolutely LOVED THEM!
These gorgeous 3/8″ wide Velvet Ribbon Shoelaces are the ultimate elegant touch whether you opt for something subtle like black or something bolder like bright lime.  Velvet shoelaces are also sturdy enough to be used in your everyday shoes or sneakers, and they can be hand washed and drip dried if ever needed.
Velvet Shoelaces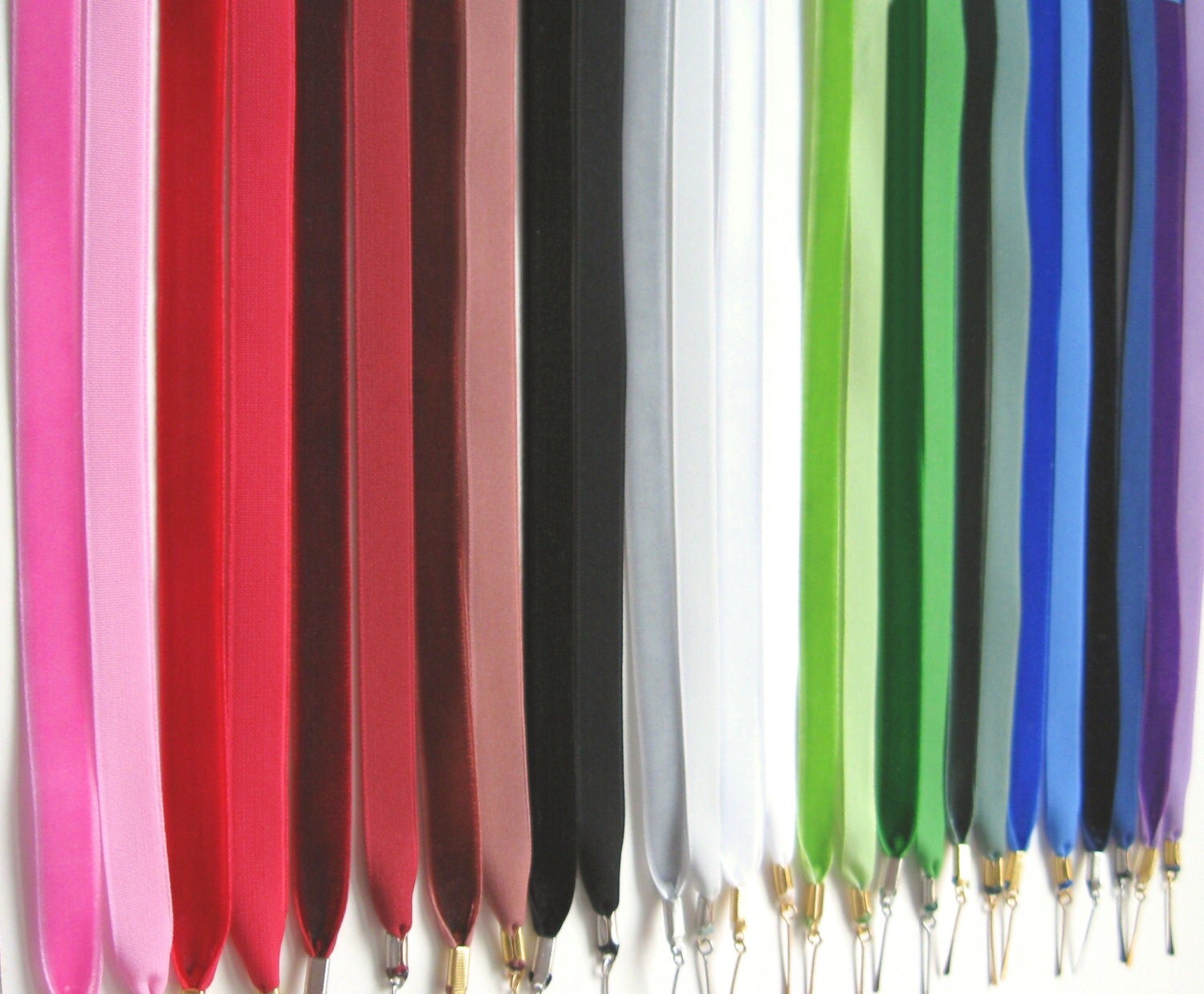 One of my favorite aspects of  Velvet Ribbon Shoelaces is how nicely they iron up. They can be easily ironed on a low setting on the matte satin side…no kinks no waves…just nice and straight and smooth, so it's definitely worth the effort when switching them out to different shoes!
Some Tip Options for Velvet Shoelaces
Because they are so plush and thick, the available tip options are meant for standard sized aglets (not tiny aglets), but you can always go with the "Trim and Seal" option to have a nice little point to pull through even the narrowest of aglets. Velvet Ribbon Shoelaces also have wider tips than other types of ribbon when selecting one of the short or long dangle metal tip options. The wide crimp tip options are available as well, although the plastic tips do not fit onto the Velvet shoelaces. For more information about these tip options, check out the article at: https://lostinlaceboutique.wordpress.com/2015/07/05/tip-options-for-custom-ribbon-shoelaces
 Color Selection with Plush and Matte Sides
They come in a variety of fun and functional colors, and these color samples include both the plush velvet sides and the matte finished back sides to show what they look like when that back side peaks through.  The Navy bow above is a great example of that.
So once again, thanks to my customers for convincing me to start making Velvet Ribbon Shoelaces. I guess sometimes only velvet will do, and these lusciously plush laces definitely let you strut your stuff. – Ann Louise