Holiday Shoelaces
It's hard to believe so many months have passed since my last post, and that's all thanks to my fabulous customers who have been keeping me busy making custom shoelaces. Several new styles have been introduced into my shops these past few months, and probably my favorite addition has been the Iridescent Shoelaces.  I've exclusively featured the Lost in Lace shop at Etsy for the laces below, but they are also available at the All About Shoelaces shop.
Pink & Green
(The Mauve and Sage on the left has softer shades while the pinstriped Fuchsia and Green on the right is a brighter way to go.)
Iridescent shoelaces stand out the most when they mix colors that are more distant on the color wheel like these pink and green laces.
Everything Purple
(Blue, Green and Purple)
 As usual I went a little heavy on the purple when selecting my iridescent shoelace ribbon.  Maybe I need someone to stop me from getting so much purple, but my customers seem to like all of these new purple shades too!
But Wait! There's More!
(Top Left: Dark Blue and Gold, Bottom Left: Green and Brown, Right: Blue and Green)
There are so many styles to choose from, that I can't list them all, but suffice it to say the Iridescent Shoelaces are going to be sticking around. If you want to see everything in one place, checkout the Iridescent Shoelaces section at the All About Shoelaces shop. They are too much fun to pass up!  – Ann Louise
Save
At the beginning of each month I like to add a post that doesn't specifically highlight any shoelaces but rather highlights a related topic. Since I get questions about several different shoelace sites, this month I'd like to provide a little info to addresses these frequent questions.
Ian's Shoelace Site™
(Screenshot Copyright Ian W. Fieggen)
My favorite informational shoelace site is Ian's Shoelace Site, and I'm definitely not alone. Customers often ask if I've seen this site, and I am indeed one of its millions of viewers. The site (i.e. Ian) examines every topic imaginable around shoelaces in an almost scientific manner. I've personally spent hours redrawing some of his lacing graphics for my own customers' benefit, and the very first pair of shoelaces I ever made were based upon ideas and suggestions from Ian's Shoelace Site. In addition to some of the more obvious topics, he covers everything from shoelaces in history to shoelaces in the news. Anyone who enjoys my Lost in Lace blog will surely enjoy Ian's Shoelace Site, so check it out.
Lost in Lace™
Another frequently asked question is where I  got the idea for Lost in Lace. I actually started with a jewelry shop on Etsy and added some shoelaces (like the ones I'd made from ideas at Ian's site) largely to expand my listings, and before I knew it, shoelaces were outselling my jewelry. At that point I decided to open Lost in Lace, so it became my first shoelace shop. Lost in Lace is currently my only shoelace shop on Etsy, and it's the site where I get to interact with my customers the most.
All About Shoelaces™
The question I get on All About Shoelaces is why I would start another shoelace shop when I already have one on Etsy. That's actually easy to explain.
Because Etsy likes to capitalize on the personal aspect of individual shop owners and how we make things by hand, I began hearing from customers who were a little uneasy about doing business in an artsy craftsy venue. They preferred the more professional facade of an independent website. From a selling standpoint, it's also nice to have an independent site free of additional fees and restrictions. Since I had plenty of website design experience, I decided to create my vision of the optimal online shoelaces site, and my All About Shoelaces customers are simply fantastic.
Ribbon Shoelaces™
Surely two shoelace site should be enough, right? Ribbon Shoelaces is based on requests from so many customers to see the shoelaces as they would appear laced in shoes rather than focusing on the ribbon itself. It simply suits a different type of customer better than my other two sites, and I love an excuse to design another website. 🙂
HueLaces™
The question I get most frequently about HueLaces these days is "Where the heck did it go?". HueLaces was created as a wholesale segment because I was receiving frequent requests from small fashion/shoe boutiques for discounts on bulk orders.  I needed to create a linesheet for the shoelaces that made sense to sell in bulk, and I needed a website put all of the information in one spot in a commercial buyer-friendly format rather than communicating with buyers through my retail shops.
With so many orders coming in through my retail sites, it was difficult to keep up with HueLaces' customers, and I realized I  needed to make the wholesale process easier for myself. I am currently in the middle of recreating my wholesale concept, and admittedly it's not been at the top of the priority list. HueLaces will eventually be back though.
So what's next? At this point I'm hoping that any new ideas or frequent requests I get can be accommodated by making minor changes to my existing shoelace shops, so I have no plans at this stage to add to this set. Getting my sites into a mobile-friendly format and getting HueLaces up and running again should keep me from dreaming up any other shoelace site ideas for awhile. Should anyway… -Ann Louise
It seems I'm always getting requests for shoelaces made of actual lace. They look beautiful in wedding shoes, and they add a frilly look to granny boots, brogues, oxfords, sneakers…actually I think by definition it's safe to say that lace shoelaces add a frilly look to any pair of shoes.
Wedding Cotton Crochet Shoelaces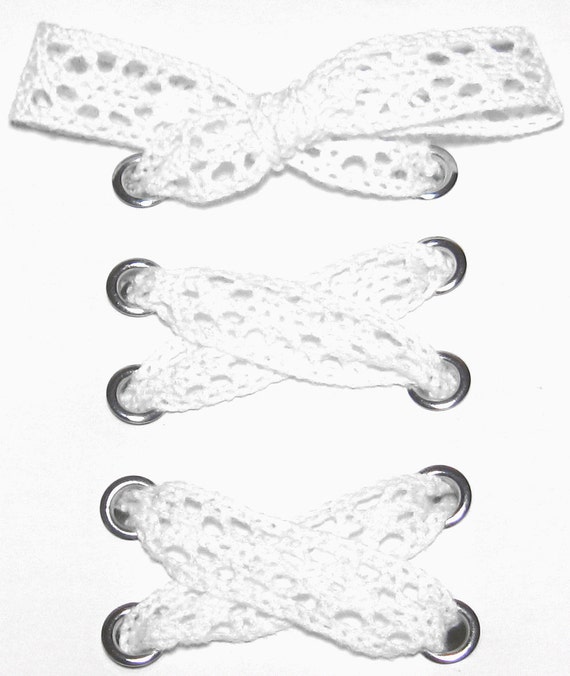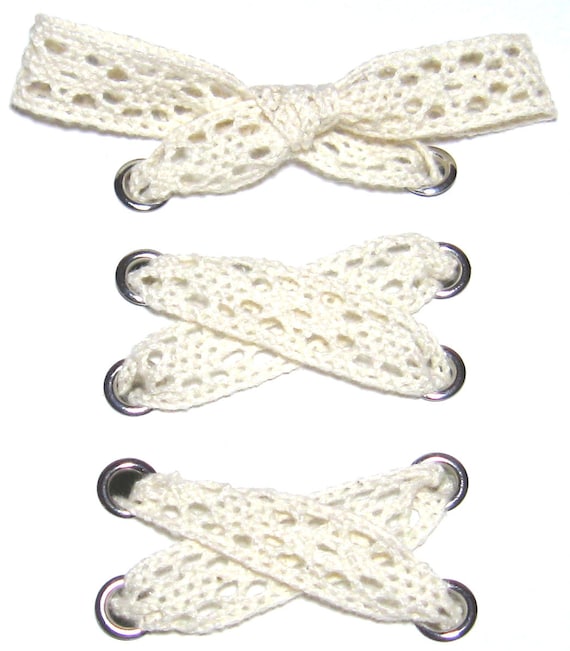 Several months ago I went on a search for lace trim that was suitable for shoelaces, and this cotton crochet style in white and ivory was the first I found. I'd actually tried crocheting shoelaces by hand, and while that worked nicely for my own shoes, it was way too time-consuming to try to do the same for my customers. As soon as I  started offering this style, many of my bridal customers opted for these over the popular organza styles. Certainly I make the majority of these shoelaces for wedding shoes. (Click on the pictures above to view these shoelaces at the Ribbon Shoelaces shop.)
Lacy Lace Shoelaces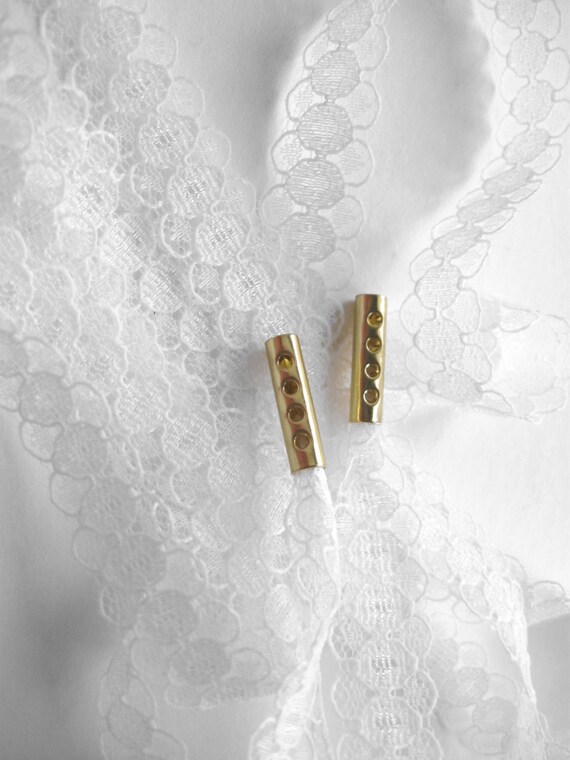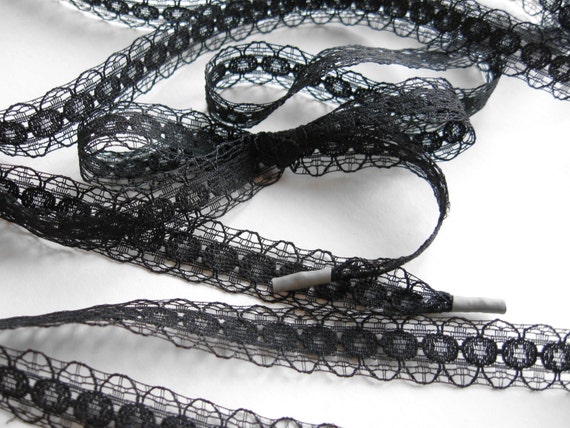 Until a couple of weeks ago I hadn't been successful in searching for more delicate looking lace that could handle the task of lacing up shoes. Finding quality wholesalers in an ongoing challenge, so I was thrilled when my sister-in-law shared one of her favorites that just happened to carry this beautiful nylon lace in white and black. While the black obviously isn't intended for bridal shoes, it has infinite possibilities with other shoes. I'm excited to hear what my customers have to say about these since I think they might just surpass the crocheted laces in popularity! (Click on the pictures above to view these shoelaces at the Lost In Lace shop.)
More Crochet Shoelaces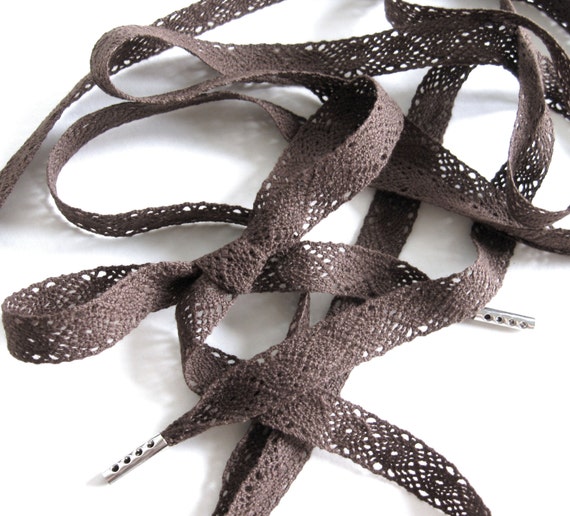 And that same new wholesaler also offered some crocheted lacing material in a variety of colors rather than white and ivory. Since these are brand new to my offering, I'm starting with a nice brown lace that's more versatile than the other colors, but I expect as these start to get noticed by my customers, I'll be back to get all of the other colors too. (Click on the picture above to view these shoelaces at the Lost In Lace shop.)
I don't think I ever would have pursued lace instead of ribbon without the requests from several customers. One advantage to being a small business owner is the ability to quickly react to customer feedback and meet their needs. These lace shoelaces are a great example of how customers can get what they want simply by asking, and I'm always so glad when they do. 🙂 Ann Louise